SIGNALS INTELLIGENCE (SIGINT)
Improve Situational Awareness with thinkRF
Capture more signals and control the spectrum with advanced Software-Defined Spectrum Analysis solutions from thinkRF.
Better Signals Intelligence (SIGINT) with thinkRF
Signals intelligence and electronic intelligence (SIGINT/ELINT) have become critical components of situational awareness, command and control systems, and public safety and security initiatives. Users are facing an increasingly dense, congested, and contested spectrum, and often have no prior knowledge about the signal they are looking for.
Patented software-defined spectrum analysis platforms from thinkRF offer the best price-performance ratio available on the market. These platforms allow users to detect traditional narrowband signals, intermittent and short-duration signals, and emerging wideband digital communications in a wide range of challenging environments and deployment scenarios with high accuracy and reliability. You can upgrade thinkRF platforms without replacing built-in hardware to analyze new standards and extend useful life of equipment, hence reduce total cost of ownership.

Control the spectrum with the best price-performance ratio on the market
Maximize detection of faint, short, low powered, or infrequent signals in challenging and fast moving environments
With the GNSS/ GPS feature, know the time and location of measurements for deeper analysis
Reduce SWaP requirements when integrating into larger systems with a compact and embedded form factor
Deploy remotely with network and triggering capabilities for continuous and in-place monitoring of the battlefield
Seamlessly integrate with leading third-party software for dedicated applications and advanced capabilities
thinkRF Signals Intelligence (SIGINT) Applications
LS telcom is the global leader in spectrum efficiency for more than 25 years. They deliver technologies and services to national and international regulatory bodies, mobile and broadcast operators, public safety, defense, and utilities. LS telcom provides world-leading broadcast network planning software and engineering, consulting, radio monitoring, and measurement services.
The LS OBSERVER solution, which leverages the thinkRF R5550 Real-Time Spectrum Analyzer for advanced spectrum analysis capabilities, can be used for a variety of spectrum monitoring applications.
The LS OBSERVER system consists of various Remote Monitoring Units (RMUs), one or more Central Control Units, and software for detailed measurement data analysis and statistics. Mobile, portable, transportable, fixed and airborne monitoring units are available. The LS OBSERVER system, which is built upon and includes the thinkRF R5550 Real-Time Spectrum Analyzer is available from LS telcom.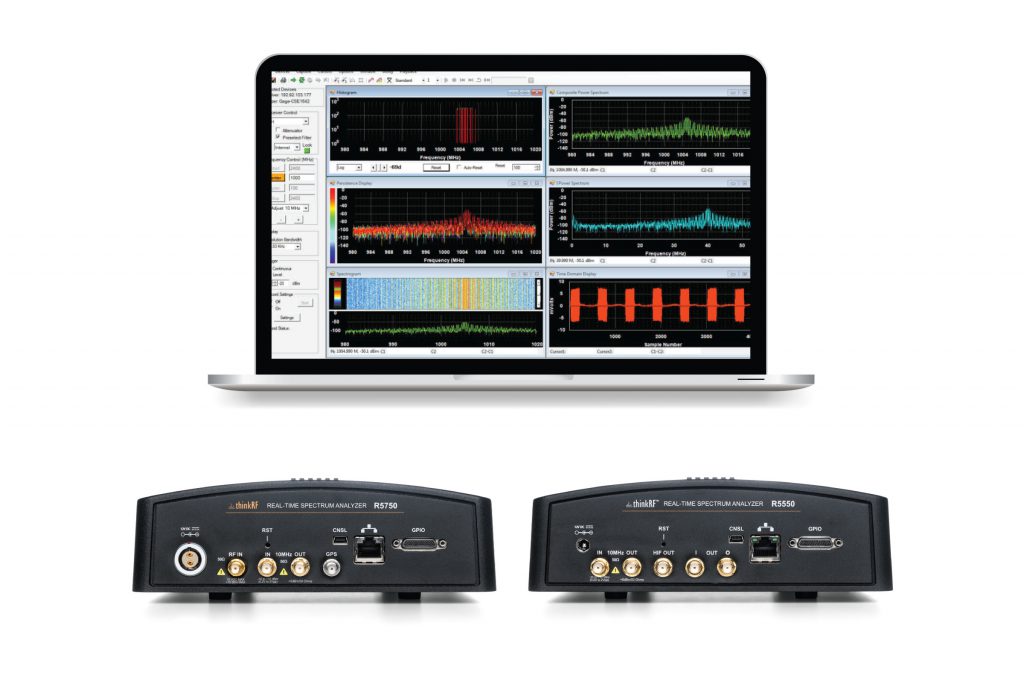 thinkRF Real-Time Spectrum Analyzers integrated with DynamicSignals Wideband RF Signal Analyzer Recording Systems allow application developers to extend their capabilities or build new products that meet customer requirements.
The GaGe and Signatec series of RF signal recording systems are complete with integrated receivers, digitizers, computer, storage, and programming-free spectrum analyzer software. These turn-key solutions provide customers with a very powerful and flexible signal recording system, while minimizing the risks of self-integrated systems. Get real-time streaming signal recordings to host RAID storage at up to 6 GigaBytes per second with live data snapshot monitoring.
The spectrum analyzer software, SpectraScopeRT, requires no programming and allows for control of receiver center frequency, bandwidth, and signal recordings. SpectraScopeRT features real-time FFT power spectrums (with peak hold and persistence), spectrograms, histograms, and time domain displays while recording, and upon recording playback.
SpectraScopeRT/SpectraViewRT signal recording and playback viewer applications for combined thinkRF downconverter and GaGe digitizer operational control with IQ time domain, I spectrum, IQ power spectrum, constellation, spectrogram, persistence, and histogram displays.

To accommodate customer integrated solutions, the digitizers and receivers have full control and data acquisition support via Mathworks MATLAB. Example programs are furnished to facilitate rapid signal processing and modulation analysis program development. Additional SDKs and example programs are provided for C/C# and LabVIEW.
Real-time streamed analysis and processing is fully supported with either an on board FPGA or a PCIe 3.0 GPU board. These solutions allow real-time processing on data streams exceeding 3 GB/s.
| | |
| --- | --- |
| MODEL | HIGHLIGHTED SPECS |
| thinkRF R5750 | Real-Time Spectrum Analyzer (9 kHz – 8 GHz / 18 GHz / 27 GHz) with GPS/GNSS option |
| thinkRF R5550 | Real-Time Spectrum Analyzer (9 kHz – 8 GHz / 18 GHz / 27 GHz) with RF Downconverter & Wideband IQ options |
| thinkRF D4000 | RF Downconverter/Tuner (RF In: 24 – 40 GHz, Real-time Bandwidth: 500 MHz, built-in local oscillators) |
| thinkRF S1000 | Spectrum Analysis Software |
Ready to Demo the thinkRF Solution?
Never miss a threat with thinkRF real-time spectrum analyzers!