thinkRF WEBINARS
Monitor, Detect & Analyze with thinkRF
The premier webinar source for thinkRF; company, products and the technology behind. We regularly add new webinars.
RF Power Amplifier Considerations for Public Safety / Mission Critical Communications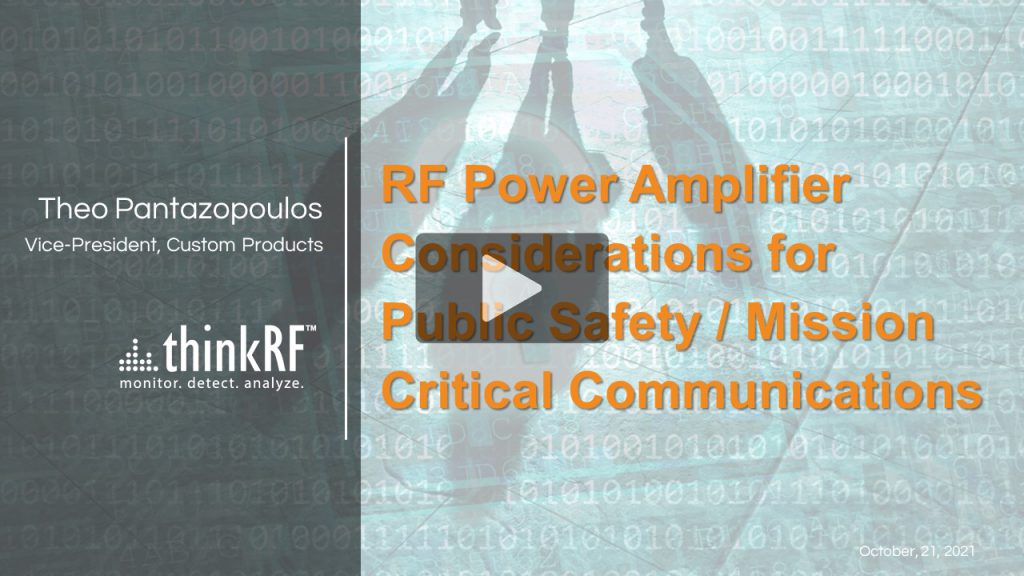 A variety of law enforcement, public safety and emergency communications professionals rely on RF power amplifiers to effectively carry out their critical missions. In order to ensure the highest degree of reliability and versatility, an RF power amplifier needs to be designed from the ground-up to ensure that it supports a variety of operational scenarios. This webinar will cover the key requirements required to address a broad variety of scenarios and how they can be addressed in a cost-effective manner. This will be exemplified by the thinkRF H1000A RF power amplifier that was designed from the ground-up to address the needs of demanding field use.
Cost-effectively extend the range of your existing RF analyzer to mmWave 5G frequencies
Aerospace and Defense agencies, Spectrum Regulators, Mobile network operators, R&D organizations and Silicon vendors have already made considerable investments in spectrum analysis solutions for current cellular and Wi-Fi networks. Register to learn one of the most economical and cost-effective methods to extend the performance of existing RF equipment to 5G frequencies.
No registration required for the webinars below.
Key Requirements for Small Receivers, Specifications and Design (47:35)
thinkRF Webinar Series #3 Lowering TCO Without Sacrificing Performance of RF Solutions (16:00)
thinkRF Webinar Series #2 – Developing Purpose-Built RF Applications for End Users (13:01)
thinkRF Webinar Series #1 – Open Spectrum Analysis Solutions for System Integrators (16:33)
thinkRF Webinar – Extending Existing Spectrum Analyzers into 5G (28:18)
Enabling Today's Spectrum Monitoring – Fireside Chat with Tim Hember and Dr. Nikhil Adnani (27:57)
How You Can See the Full Picture with Semic and thinkRF (54:45)
Seeing the Full Picture with Semic and thinkRF Recording (34:46)
Seeing the Full Picture – The New Challenges for Spectrum Monitoring and How to Address Them (30:15)
Ready to Demo a thinkRF Product or a thinkRF Solution?