ThinkRF today announced the release of the S240, the latest high-performance analysis software application from one of the leading providers of advanced radio frequency test and measurement instruments. Running on a Windows-based computer, the S240 provides an advanced user interface for the industry-leading ThinkRF WSA5000 Real-Time Spectrum Analyzer, a high-performance test instrument used in a variety of critical applications including LTE wireless deployment monitoring, RF signal analysis, device manufacture test and product development. The ThinkRF WSA5000 is a compact, remote-deployable real-time spectrum analyzer that provides the performance of traditional lab spectrum analyzers at a fraction of the cost.
Leveraging the company's expertise in helping users visualize the spectrum around them, ThinkRF has designed the S240 software to feature an enhanced graphical user interface that is significantly more intuitive than previous versions. It has been developed with ease-of-use in mind, with common settings including Frequency, Bandwidth and Amplitude constantly accessible and with all other standard functions located in an intuitive, context-sensitive menu.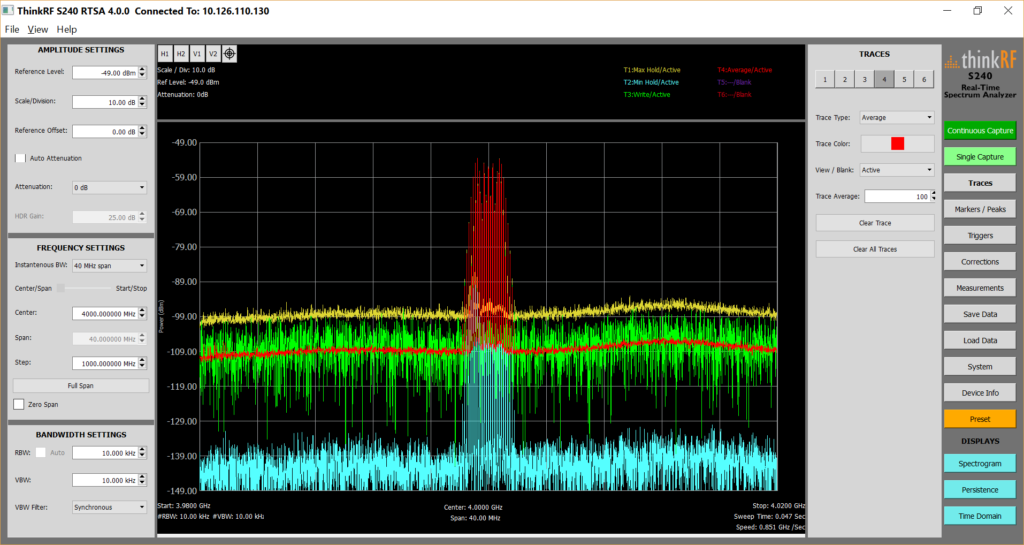 "The S240 software can measure up to 100 MHz in real-time bandwidth (RBW) across a frequency range from 100 kHz up to 27 GHz," said Dr. Nikhil Adnani, Chief Technology Officer.  "It is an important step forward for our software capabilities. With this release, we now offer an advanced real-time spectrum analysis solution to customers, harnessing the power of our WSA5000 hardware."
"This release demonstrates our commitment to providing a beautiful, cost-effective spectrum analysis solution without sacrificing performance or features," said Jim Roche, President & CEO. "We know our customers will be excited by this release. At the same time, we are also committing to a scheduled roadmap of continually enhanced features and capability."
Newly implemented functions such as occupied bandwidth and zero-span mode have been added to give users more measurement capabilities.  Other features include channel power measurements, triggering and recording capabilities, and the ability to playback saved data to conduct in-depth analysis not possible in real-time.
The S240 software is available today as part of the ThinkRF Real-Time Spectrum Analyzer solution.
————————————————–
About ThinkRF
Based in Ottawa, Ontario, ThinkRF enables cost-effective research, testing and monitoring of all wireless devices by delivering high performance real-time spectrum analyzers to customers across industries. For more information, visit the website at www.thinkrf.com or contact info@thinkrf.com.