C/C++ APIs and DLL
Among our rich set of APIs and programming environments is the C/C++ API and DLL which abstracts the SCPI command and VITA VRT dataflow from the R5550 analyzer. The C/C++ API is openly available to you in source code allowing commercialization of solutions through BSD open licensing.
NI LabVIEW®
API's for the NI LabVIEW® system design software.
Easily and quickly integrate the ThinkRF R5550 or R5750 analyzer into your existing or new NI LabVIEW® based acquisition, measurement, automated test and validation systems.


SCPI and VITA VRT
Compliance with standard protocols provides you both multi-vendor independence and device interoperability.
ThinkRF supports the Standard Commands for Programmable Instruments (SCPI) for control and the VITA-49 Radio Transport (VRT) protocol for data flow.
ThinkRF provides high-level functions and examples for programming and interfacing at the SCPI and VITA-49 VRT level in each of ThinkRF's APIs.
MATLAB®
API's for MATLAB® interactive programming environment.
ThinkRF provides MATLAB® APIs for connecting to the ThinkRF R5550 or R5750 Real-Time Spectrum Analyzer and MATLAB® program code examples to get you started towards developing your own.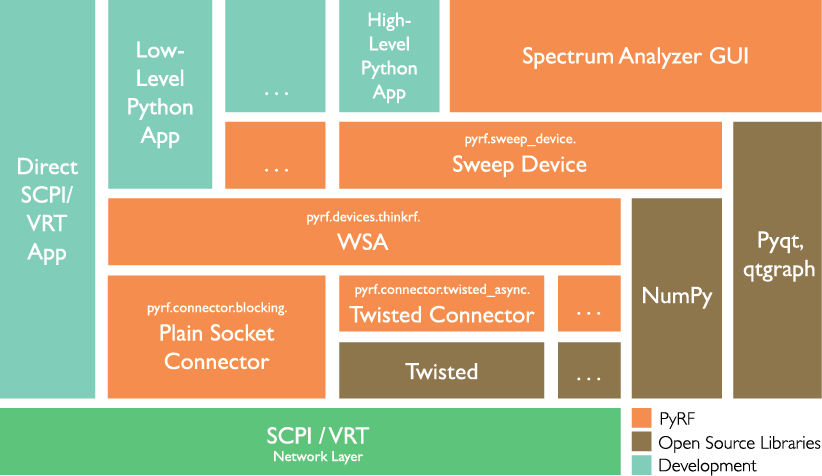 PyRF Development Framework
PyRF enables rapid development of powerful applications that leverage the new generation of measurement-grade software-defined radio technology. It is built on the Python Programming Language and includes feature-rich libraries, example applications and source code.